Fluid Systems and Test Operations
The Fluids and Ops team at LPL is the backbone to our testing campaigns. A mix of process and test engineers, the team not only designs the test stands and feed systems we fire our engines on, but also write, vet and perform the procedures to ensure every test is done with the upmost safety.
Hydra serves as a test stand and feed system; it's structure is rated to secure an engine with a maximum of 1000 lbf and provides a remotely operated pressure regulated feed system for liquid rocket engines.  It was designed with several key aspects in mind: portability, modification, versatility, and safety.  Hydra is a critical milestone for LPL's future capabilities and will be used as a platform to test and modify future engine and feed system ideas.
Hydra is a workhorse for liquid rocket engine research and development and allows LPL's members to learn about the operations, electronics, control, high pressure systems, sensors, safety, valves and a host of other feed system topics affecting liquid rocket engines.
Water Flow Test Stand (WFTS)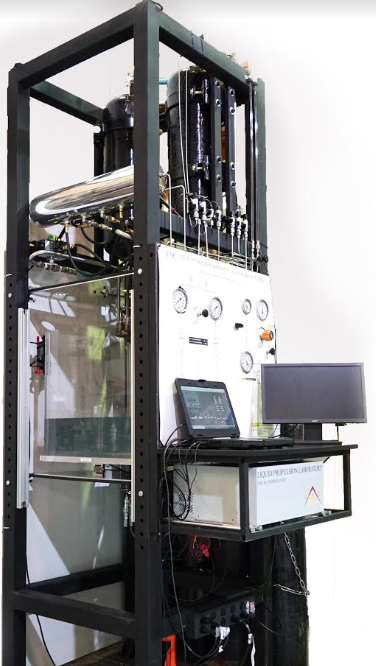 A fully automatic water-flow test stand has been designed by LPL. The test stand aims to improve testing infrastructure at the lab, specifically in cold-flowing liquid rocket engine and feed system components. The goal is to be able to determine the flow coefficients of test articles with an accuracy of better than 1 percent. The system will also be used for examining injector spray formation, conducting atomization research, testing cooling systems, testing throttle valve functionality, etc, and as a learning tool for new lab members
Specs:
Two main water lines to simulate fuel and oxidizer flow
Capable of flowing water at mass flow rates of up to 5 kg/s
Pressures of up to 900 psig
Automated data acquisition and control system