LPL has developed over 3 unique feed systems for a range different uses: an engine test stand that powers gaseous oxygen/kerosene engines with thrust levels up to 1000 lbf, a vertical test unit that precisely characterizes flow orifices such as injectors, and a portable feed system used to prototype torch igniters. LPL's feed systems are developed, operated and tested entirely in-house by our members and are continuously improved. Furthermore, we always strive to develop new test stands in order to utilize our skills and expand our capabilities. We expect to begin the design of a cryogenic rated feed system this year.
Hydra Test Stand
Prometheus Test Stand
Water Flow Test Stand (WFTS)
Cryogenic Test Stand (Planned)
Hydra Test Stand
Hydra is LPL's main test stand and feed system designed to test gaseous oxidizer and liquid fuel engines.  Hydra can operate engines providing thrust up to 1000 lbf and is capable of supplying up to one gallon of fuel per firing. A new addition to Hydra is the Mobile Oxygen Manifold System (MOMS).  This system consists of 8 pressurized oxygen tanks and 1 pressurized nitrogen tank. Each high-pressure tank is securely fastened to MOMS at 2 different points to prevent any type of unwanted movement. The oxygen tanks provide Hydra and the engine with oxidizer and the nitrogen tank is used for purging the lines pre- and post-firing. Hydra was designed with several key aspects in mind:  portability, modification, versatility, and safety.  Hydra is a critical milestone for LPL's future capabilities and will be used as a platform to test and modify future engine and feed systems.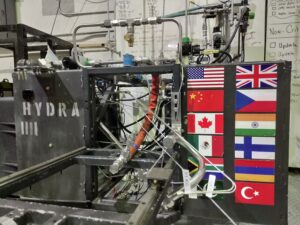 Specifications:
Mobile pressure regulated test stand designed for a gaseous oxidizer, a liquid fuel, and a pressurized inert gas used for the fuel
Capable of testing engines with thrust up to 1000 lbf
Can provide oxidizer line pressures up to 1500 psig and fuel line pressures up to 1800 psig
Oxidizer and fuel line purges provided by N2 purge lines
Data collection performed by Labview modules with connection to 9 pressure sensors and 6 temperature sensors on the test stand
Prometheus Test Stand
Prometheus is a miniature test stand, which operates as pressure fed and regulated system, designed to test torch igniters. With a max bottle pressure of 2000 psi and a max operating pressure of 1000 psi. Prometheus is a bipropellant feed system designed to flow GOX and kerosene into mounted torch ignition systems. The use of this system will be a huge milestone for the lab as it allows us to transfer away from pyro igniters and move towards the more reliable torch igniters.  Pyro igniters do not allow for rapid engine restarts as the solid fuel charge needs to be replaced between firings, requiring any feed system used to be put into a completely safe state. This feed system improves LPL's testing infrastructure with its portable and modular design. Allowing for ease of use and ease of modifications in the future.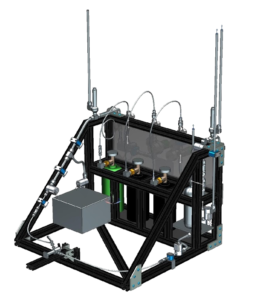 Specifications:
GOx / Kerosene feed system
N2 is used as a pressurant as well as for the system's purge
The system is operated using solenoid valves at a standard operating pressure of 1000 psi
The system runs by Python based Raspberry Pi data acquisitions system (DAQ)
The dimension of the system are 33 " x 38" x 29"
Water Flow Test Stand (WFTS)
The test stand aims to improve testing infrastructure at the lab, specifically in cold-flowing liquid rocket engine and feed system components. The goal is to be able to determine the flow coefficients of test articles with an accuracy of better than 1 percent. The system will also be used for examining injector spray formation, conducting atomization research, testing cooling systems, testing throttle valve functionality, etc. and as a learning tool for new lab members.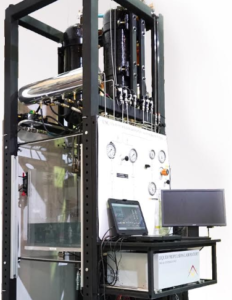 Specifications:
Two main water lines to simulate fuel and oxidizer flow
Water flow at mass flow rates of up to 5 kg/s
Operation at pressures up to 900 psig
Automated data acquisition
Pressure control through an electro-pneumatic regulator
Emergency pressure venting
Adjustable mounting platform for different size of test article with maximum diameter of 10"
Minimum of three screw-in rods must be connected to the test article and in turn to the platform with a desired size
Up to three pressure transducers can be connected to the test article
TBD Cryogenic Test Stand
LPL is developing a cryogenic test stand capable of testing 30 kN class engines. The design is in early development with an expected design timeline of 24 weeks.